Address
Leibniz Universität Hannover
Institut für Theoretische Physik
Appelstraße 2
30167 Hannover
Contact
Email: office@itp.uni-hannover.de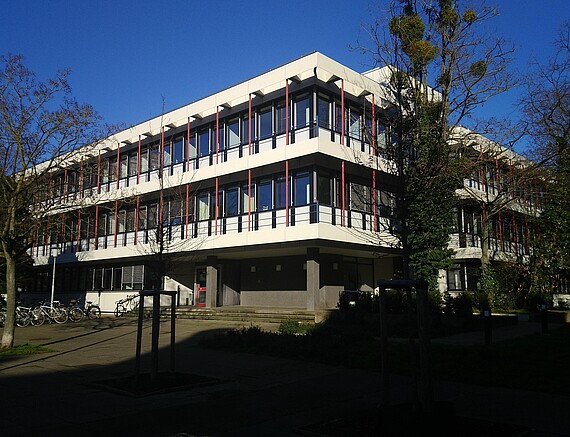 Executive Director
Address
Appelstraße 2
30167 Hannover
Address
Appelstraße 2
30167 Hannover
Address
Appelstraße 2
30167 Hannover
Address
Appelstraße 2
30167 Hannover
Address
Appelstraße 2
30167 Hannover
Address
Appelstraße 2
30167 Hannover
Address
Appelstraße 2
30167 Hannover
Arrival
By Train and other Public Transport
Plan your trip to Hannover on the following pages
Starting at Central Station you stay within zone A
The airport is in zone B so need a AB ticket
From the Central Station

Go either

by foot to the LRT/subway station Kröpcke (about 250 m). For this purpose go south (small platform numbers) and go straight along the "wide" street (Bahnhofstraße). The square you are heading to is called Kröpcke. Follow the "U" sign to the LRT/subway station
Use the LRT/subway station within back of the Central Station (high platform numbers). Take any line heading south (smaller platform numbers)

Take the line 4 (Garbsen) or 5 (Stöcken) (yellow colour coded lines)
Dismount at the station Wilhelm-Busch-Museum/Schneiderberg
Cross the street at the intersection where the street is perpendicular to the tracks (Schneiderberg)
Go straight about 400 m until the street crosses the street Appelstr.
The three storey building on the left contains the ITP (top floor)

From the Airport

Take the train ("S-Bahn"). Line number 5 (the only line departing here)
Leave the train at the stop Nordstadt.
Upon leaving the railway station turn right and continue to the next traffic light (approx. 200 m) and cross the street.
Turn right into Haltenhoffstraße and continue to the next street on the left hand side (Schneiderberg).
Walk along the street Schneiderberg for about 300 meters until the intersection with Appelstraße on your right. Just before the intersection, you find on your right a present-day 3-storey building containing the ITP on the top floor.
In total this takes about 20 to 25 minutes after leaving the airport station.
By Car
Note that as of January 2010 your car needs a green emission sticker (Feinstaubplakette Stufe 4) when you want to enter the inner city of Hannover (which includes the location of the ITP).

From the West or the East (via A2)

Exit autobahn A2 at Hannover Herrenhausen and take Westschnellweg (B6) to Hannover.

At exit Herrenhausen follow the signs to Universität (university) via Herrenhäuser Straße. Follow the street that will change to Nienburger Straße. At the crossroads to Schneiderberg turn left. The crossroads are directly behind a red brick building complex of the university on the left and a streetcar stop on the right. Follow the street until you find yourself at the crossroads to Appelstraße. The three-storey white building to your left front (Appelstraße 2) is the institute.

You can park your car for free directly at the parking lots nearby or in our inner yard. Note that the inner yard is locked over night.

From the North (via A7)

Change from autobahn A7 to A2 to Dortmund at the highway junction Hannover Nord and follow the instructions given above.

From the South (via A7)

Take the exit Messe to A37 and follow the so called Messeschnellweg to Seelhorster Kreuz. Exit here and follow B6 to Nienburg. At the exit Herrenhausen follow the instructions given above.